Many organizations have struggled with the problem of silos, how to coordinate the work done by different functions. Common solutions such as "dotted-line" relationships or matrix organization often leave employees confused about who their real manager is or what to do when confronted with conflicting orders.

RO provides a very useful strategy-driven solution to the problem, TIRRs (Task Initiating Role Relationships) that makes an employee accountable to serve the interests of a department they do not work in while still having the employee accountable only to their own manager.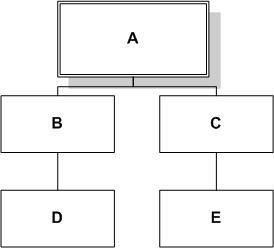 A TIRR can give Employee D authority to have Employee E do something (consider advice, provide a service, coordinate their work with others, or take an action immediately) or to ask or tell Employee E not do something (not step outside of policy or not interfere with a strategy). What is critical about this arrangement is that it is Employee C, the manager of Employee E, who holds E accountable to work within this arrangement.

A question came up recently in a project I was working on regarding who needs to determine what the relationship should be between Employees D and E. My colleague and I agreed that that the conversation could start at any level:
D and E could realize that a particular working relationship would make sense for them.

B and C could also come up with an arrangement as a means of getting D needed support.

A could set up the relationship between D and E in designing how the department should function.

We also agreed that ideally, B, C, D and E should all have their opinions solicited and considered. The question was, if B and C came to agreement, need they get A's approval? I put the question to a number of colleagues, and the most articulate answer came from Michael Anderson:

I think that A has to see the results of whatever B and C come up with, to ensure that the overall pattern of cross-functional relationships is consistent with how he/she wants to integrate work between B's and C's functions . If sufficient context was provided in the first place, this would probably be [1] a formality and [2] an opportunity to reinforce some key messages and have a deeper conversation. If B and C got it wrong, then clearly the A has to intervene and override.

So, at the end of the day, A has the last say. I guess that makes him/her the decision maker, but at the end of what ought to be a rich and inclusive process.

One way of framing the debate is: Is the design of TIRRs the work of B and C, or is it A's work? In principle, I'd say that it's intrinsically A's work, because that's the point of integration. If that's the case, the debate is more about how much authority A chooses to give to B & C and how much he/she chooses to hold back. And that's more a judgment of what works in a given situation, rather than a pure point of principle.

And that is what makes sense to me. The conversation can start anywhere and it is important to obtain and consider the advice of all of the parties involved, but the working relationship between D and E must be decided upon by A.