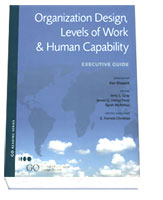 Executive Guide
by Ken Shepard (Editor), Jerry L. Gray (Editor), & James G. (Jerry) Hunt (Editor) with 40 authors from around the world.
Price: $63.00 US
In Stock
Incredibly, the first book in the GO Society Reading Series In Organization Design, has been adopted into the management curriculum of corporate universities within a month of the July 2007 launch!

The Executive Guide - authored/co-authored and edited by over 40 respected CEOs, consultants, academics, and management educators from 7 countries - was specially prepared for CEOs, C-Level Management and General Managers, and has already drawn many powerful endorsements, reviews and testimonials.
Contents of the Book
By structuring the flow of this book across seven subject areas, we endeavored to create a logical sequence for those interested in reading from cover to cover. For others, each article is designed to stand alone so that those with more targeted interests may follow them according to their own priorities.