5th Biennial Organization Design World Conference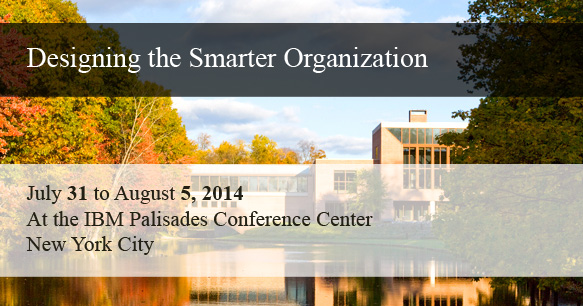 pdf  2014 Conference Brochure (May 26) (781.32 kB)

document  Download Conference Registration Form (51.28 kB)
Overview
Major conference themes
Who should attend
Learn how to
What past participants have said
Conference format options
Preparation for event
After event
General Conference Schedule
Location and accommodation
Overview
Are you looking for a systems approach to designing and managing your organization, one that's supported by rock-solid evidence?
Then you must consider this one-of-a-kind learning event that gives you a solid grounding in the science and practice of Global Organization Design, also known as Stratified Systems Theory (SST), Work Levels, and Requisite Organization (RO). Nearly all organizational dysfunction can be traced to poor structure and unclear accountabilities rather than deficient employees.  Fixing dysfunction, therefore, is a matter of fixing the system using science-based, requisite principles. Requisite Organization (RO), the latest evolution of these work-levels related approaches, is the only total system model for organization design and managerial leadership.
The Global Organization Design Society World Conference is the world's only public, professional development program in requisite accountability and levels-based organization design and management. You will l
earn directly from executives who have successfully applied the principles to re-design their organizations and unleash their organization's potential.  
This conference package promises to have a measurable impact on your organization and your personal effectiveness 
Major conference themes
Sharing experiences in major organization re-designs from around the world: To be explored in the private, governmental, and non-profit sectors
Big Data and Organization Design: Technological innovation has long driven strategy.  Now as the rate of digital technological change increases exponentially, concurrent design of light and flexible structures are required to fully realize potential value. Thought leaders are preparing a mini-book of challenges and propositions to catalyze conference discussions.
IT, data management and analytics in Financial Services and Health Care:  How to set newly designed functions at the right level of work complexity and to design effective lateral relationships.
Exploring complementary features of vertical and lateral designs:  Will be explored with thought leaders in other major organization design approaches.
Effective design of:
• Small and medium sized entrepreneurial organizations
• Not-for-profit, Common Good Organizations
• Health care organizations
Who should attend
Experienced practitioners of levels-based organization design can expect the same state-of-the-art sharing of practice as in previous conferences.
IBM, IBM clients & IBM business partner executives – as well as managers of other IT, data management and analytic firms wishing to improve product design, sales, implementation, and client organization design to capture the full value of expanding analytic powers
Financial services and health care executives
Entrepreneurs, founding owners, presidents and senior managers of small- and medium-sized businesses who want an effective short course in designing and managing their growing organizations
CEOs, senior managers, HR executives, and high potential individuals who need a meta-model for sustainable organization and leadership effectiveness.
General managers with accountability for implementing strategy
Vice Presidents of Human Resources tasked with building strategic capability in their own function and throughout the organization
High-potentials needing an in-depth understanding of complex organization dynamics and how to succeed in special project assignments
Senior management consultants who want a powerful short course in organization design and management and to align themselves with a global network of senior organization design practitioners to collaborate on major projects
Senior practitioners of complementary organization design approaches
Academics in organizational studies looking to include these concepts in their teaching, research and consulting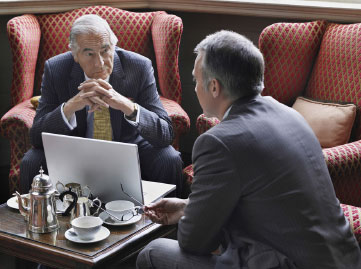 Learn how to
•  Determine the optimal number of organizational layers
•  Establish clear roles, accountabilities, and authorities to build effective cross-functional relationships
•  Create a new business unit or separate company based on RO principles
•  Integrate an acquisition using the powerful lens of work levels to sort out the chaos of titles and compensation
•  Design robust project management structures to handle complexity
•  Improve the design and staffing of the Human Resources function and manage the careers of high potential HR professionals
•  Exercise leadership that will help managers to become effective leaders and employees to use their full capabilities
•  Understand how to leverage all components of the complete system of management to ensure sustained organization and leadership effectiveness
What past participants said
"A rare conference experience indeed! Dialoguing with other executives and practitioners at the top of their fields. Lots of systems thinking."

"Learning in a selling free environment was refreshing."

"Your new professional development format is engaging and first class. You've gone from 90% lecture to putting the concepts into well-designed time-efficient E-learning so that our time together at the clinic could be focused on applying concepts."

"Generosity everywhere! I was amazed at the collegiality, trust and sharing the Society has developed in this professional community over the years. It was a privilege to join you. I invited one of your presenting CEOs to speak to my senior team and his time with us saved months of time."
This conference offers three format choices
For the Full Conference Option you have 2 Clinic choices:
Clinic #1: Organization Design
Clinic #2: Management Process
Recommended (for all 3 format choices): For those without extensive background in requisite organization, please review the E-learning modules on the Global Organization Design Society's web site to provide you with a good conceptual overview of the organization design methods we will be discussing.
Essential for the full five-day conference format: The opening clinic assumes that all participants have studied the E-learning modules so that they will be able to fully participate in the group work to apply basic RO concepts to produce effective solutions to the focus case.
Optional: Some thought leaders are writing a short book on major Big Data and Organization Design challenges and opportunities. Once released you can read that prior to the conference. You can also participate in a teleconference and if you wish an online discussion forum moderated by clinic staff who are Senior Fellows of the Society.
After the event
You will receive one-year continued access to the GO Society's on-line professional development program including advanced recommended readings, videos, and on-line moderated discussion. You will also receive an invitation to become a Society affiliated organization design practitioner upon successful completion of the program and recommendation by a distance coach.
General conference schedule
Thursday
July 31

Friday
August 1

Saturday
August 2

Sunday
August 3

Monday
August 4

Tuesday August 5

6:00 pm - 9:30 pm

8:30 am to 5 pm

8:30 am to 5 pm


8:30 am to 4 pm
Keynote & 3
in-depth workshops

6 pm - 7 pm
Dinner

7 pm - 9 pm
Evening Plenary

8:30 am - 5 pm

8:30 am to 5 pm

Opening dinner &
first session

Clinic #1:Organization Design Principles
Clinic #2: Management Processes

Clinics run co-currently.
You must choose one.

Clinic #1:Organization Design Principles
Clinic #2: Management Processes

Clinics run co-currently.
You must choose one.

Executive Symposium

Keynote and plenary w/
general managers
sharing implementation
projects

Keynote and workshops on
current challenges & insights
from current practice
Location and accommodation
Dolce (IBM) Palisades Conference Center
334 Route 9W., Palisades, NY 10964. USA
Located just 12 miles from the George Washington Bridge and 30 miles from major New York and New Jersey airports, Dolce Palisades provides a relaxing retreat for business and vacation near the Hudson River Valley.
Accommodations are included in all pricing for individuals. The Dolce (IBM) Palisades Conference Center provides an extended queen bed for an individual or couples.
We will arrange accommodations for unrelated individuals wishing to share a room at the nearby Holiday Inn with free 5-minute shuttle to the conference.
Conference sponsor





IBM is a global technology company transforming itself from a traditional supplier of hardware to the IT executive to a provider of solutions supporting the enterprise C-Suite in capturing the promise of exponentially expanding data and analytical capability.
IBM sponsored an international conference on Big Data and Organization Design in Paris in the Spring of 2013.
It was there that IBM recognized that the levels of work complexity and human capability methods used by the Global Organization Design Society had potential to contribute and decided to co-sponsor this conference.


pdf  2014 Conference Brochure (May 26) (781.32 kB)