Newly redesigned!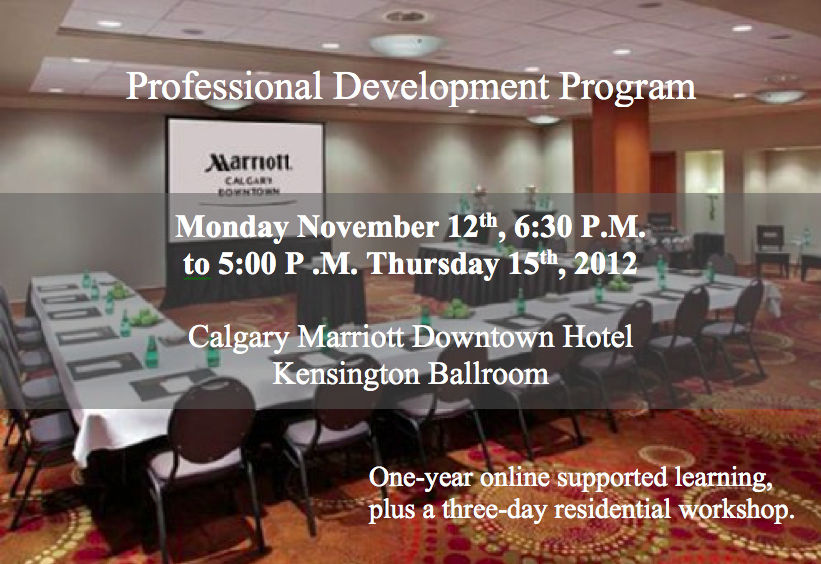 What you will learn
Features
What's special about this program?
Who Should Attend
The Learner's experience
Staff
Price
Accommodation
Registration

What you will learn:
Basic concepts of requisite organization-based organization design and management
How to apply these concepts in case studies
How senior executives have applied these concepts in a variety of organizations to implement their strategies or to address priority issues.
Features
A year's access to the Society's Learning Management System (LMS) and subscription-only learning resources.

Guided reading and viewing
E-learning modules on requisite organization concepts*
On-line learning forum with Senior Fellows

Three-day face-to-face learning environment:

Two-day hands-on workshop focused on skilled use and application.
One-day executive conference with general managers discussing their major projects - with frequent huddles in learning group with Senior Fellow tutors.

Structured program to pair learners at the general management level with senior practitioners in five hours of Distance Tutoring (with the option to continue tutoring at GO Society rates)
Distance or on-site project support by senior practitioners at negotiated rates (optional)
Invitation to become a Society affiliated organization design practitioner upon successful completion of the program and recommendation by a distance tutor who has supervised your introduction of these concepts into your work or consulting practice.
* Note:  E-learning modules were contributed to the Society's professional development program by Novus International.
What's special about this program?
Global Organization Design professional development offers a science-based, systems approach to designing and managing organizations where all elements are integrated and aligned.  This is in contrast to other trainings which often include weakly supported assertions of high level principles, eclectic assemblies of fragments or which are limited to participatory processes rather than to design itself.
It may be the world's only public professional development program in accountability and levels-based organization design and management.
It's supported by a global professional association (not-for-profit) with values of generosity and sharing rather than by a for-profit company offering proprietary materials.
It's linked to an on-line Learning Management System - complete with organized learning modules, e-learning,  teleconference, and on-line forums using  reference materials donated by the society's individual and corporate affiliates.
It's staffed and supported by the Global Organization Design Society's most senior practitioners who contribute their time as part of their citizenship commitment to the Society and the development of the field.
It supports pairing participants with senior practitioners for distance tutoring and project support as resources allow.
Who should attend
CEOs of small and medium sized businesses who want an effective short course in designing and managing their growing organizations.  These methods have been highly valued by VISTAGE, TEC groups and other CEO learning groups.
General managers with accountability for implementing strategy.
VPsHR who need to build strategic capability in their own function and then throughout the organization.  They will learn to improve the design and staffing of their own function and to manage the careers of high mode HR professionals.
Directors with accountability for implementing strategy or who support general managers in their organization design work.
Hi - potentials will gain in-depth understanding of complex organization dynamics and how to succeed in special project assignments and to better manage their rapidly developing careers.
Senior management consultants who want a powerful short course in organization design and management and to align themselves with a global network of senior organization design practitioners to collaborate on major projects.
Academics in organizational studies who wish to include these concepts in their teaching, research and consulting.
The Learner's Experience
Preparation for Calgary Events
Purpose:  To introduce Global Organization Design and its values, provide an overview of the program, provide grounding in the foundational concepts, meet the facilitators and other participants, share introductory questions and issues on line, and to set personal learning objectives for the program.
Register for the professional development program
Watch a short on-line video introducing the approach and program.
Study recommended articles and videos
Complete the e-learning modules
Participate in on-line Forum for sharing questions / insights and discussion.
Complete an on-line survey about your work context, issues, questions, and personal learning objectives.
Participate in one or more teleconferences with the workshop leaders
Calgary Events - (Three days)
Purpose:To deepen your understanding of foundational concepts and their application, to build personal relationships with Senior Fellows and others in the learning community, and to participate in a senior executive discussion of applying requisite concepts to address priority issues in major organizations.
The workshop design assumes that you have completed the Novus e-learning modules and submitted your notes before you arrive and begins with practice in application.  Those who arrive without the required preparation will be assigned to a separate track to cover the basic concepts before rejoining the workshop and Symposium.
Monday, November 12th
6:30 pm  Reception, dinner and gathering in.  The less experienced meeting the more experienced.

Your learning goals, forming learning groups, learning additional features in the GO Society Learning Management System.
Tuesday, November 13th
Clarification of concepts from the e-learning modules
Current (extant) organization analysis (in the context of the case study)

Assessing grouping of work
Assessing cross-boundary issues
Wednesday, November 14th
Developing requisite design propositions
Fit to role application and practice—assessing information processing capability
Talent Pool Management
Putting it on the ground—implementation and barrier management
Back-home planning - Orientation to on-line learning resources including being matched with a distance tutor

Thursday, November 15th, 8:30 am to 5:00 pm
Attend Global Organization Design:  Getting It Done - Organizing for Results to hear senior executives describe their use of this approach and discuss implementation issues and benefits. Seated with your learning group and assigned distance tutor you'll have frequent opportunities to link the conceptual learning with executive experience.
Post-Calgary - Continuing Your Learning
Purpose:To support your continued learning in your areas of interest supported on-line by the Society's Senior Fellows and others in the learning community and the Society's extensive resource library.
Participants at the general management level will complete five hours of teleconference "distance tutoring" with Senior Fellow practitioners.
Complete additional hours of distance tutoring as desired at Society rates.
Continue reading, reading, and discussing-on-line Society web site materials related to your learning goals.
Engage a Society shadow consultant on a project that will apply Global Organization Design concepts in your organization or client organization. (if appropriate to your needs)
Upon successful program completion and recommendation of your distance tutor, consider accepting an invitation to sign a Society Participation Agreement to become an affiliated practitioner -- an Associate of the Society.
Professional development program staff
Herb Koplowitz, Ph.D.

Dr. Koplowitz in a founding member and Senior Fellow of the Global Organization Design Society and has played a lead role in designing and delivering the Society's professional development programs in accountability and levels-based organization design.

He is President of Terra Firma Management Consulting.  Terra Firma helps organizations develop the structure, staffing and leadership they require to reach their strategic goals in a trust-building manner.  His consulting has been grounded in Global Organization Design concepts since 1991.  He has consulted and trained in Canada, the U.S., Jamaica, Argentina, India, Russia, Ghana and South Africa

Herb specializes in helping employees, managers and executives learn ways of talking and thinking about organizational issues that help them find more effective solutions to their problems.  He is skilled at making the concepts of Requisite Organization accessible to employees.

Herb holds a B.A. in mathematics and philosophy from Cornell University, a PhD in psychology from the University of Massachusetts and registration as a Psychologist in Ontario.

Azucena Gorbaran

With 25 years of experience in consultancy, Azucena has worked with leading companies managing more than 150 transformation projects in Argentina, Chile, Uruguay, Colombia, Perú, Venezuela, Bolivia, Ecuador, Brazil, Mexico, Guatemala and Panama.

Azucena's area of expertise is helping organizations in the process of growth and transition towards more complex business environments and increasing competitive capabilities of such organizations. The distinguishing aspect of her consultancy approach is her ability to establish deep and clear connections between a company's business strategy and organizational capabilities, and to implement plans accordingly.

A few examples of Azucena's contribution to leading companies include the following:

Working with the oil and energy company YPF in its transition from being one of the biggest Argentinean state-owned company to being a Spanish private company.
Helping to set up the vision during the start-up of the airline LAN Argentina and aligning the company to work driven by that vision.
Assisting the largest cellular phone company, Movicom, during its growth process and later merger with Unifon in Argentina, Chile and Panama.
Working with Grupo Brescia's Corporate Centre in Peru.

Azucena contacted Elliot Jaques in 1983 through Jaques' disciple, Profesor Aldo Shlemenson. Since then, Azucena has integrated concepts from Requisite Organization such as structure design, potential capability assessment, talent pool planning and leadership practices into her approach.

Azucena was a member of Wilson Learning Corporation' leading board and represented the firm in Latin America during 14 years.

Paul Tremlett, MSc. in organization behaviour

Paul is a founding member and Senior Fellow of the Global Organization Design Society participating fully in all aspects of its programming.

He is a co-founder of COREinternational inc, a management consulting business dedicated to helping executives plan, design, and manage their organizations for outstanding performance. He has an extensive background in complex organization change management, strategic planning, organization restructuring and management education and training. Prior to consulting he held various management roles with Imperial Oil Limited and Xerox in sales, marketing, operations, training, and organization development.

Paul focuses particularly on organization design and redesign. He has helped more than two dozen public and private sector organizations align their work system to more effectively achieve strategic and operational goals, and has provided services in management, organization, and human resources development and effectiveness.

Paul has also designed and facilitated numerous management education, team development, consulting skills, and change management programs.

Ron Capelle, Ph.D., CMC, CPsych, CHRP

Dr. Capelle is a founding member and Senior Fellow of the Global Organization Design Society. He is President & CEO of Capelle Associates Inc.

Ron is an international expert in the assessment and implementation of organization design. With more than 30 years of experience, he brings a wealth of knowledge and insight to his executive clients.

Ron has consulted with a wide variety of national and international organizations including advanced technology, financial services, communications, health care, manufacturing, oil and gas, retail, transportation, and all levels of government. His global consulting experience includes work with organizations in the private, nonprofit and public sectors. This extensive experience provides Ron with a comprehensive knowledge base from which to understand the complex issues of organization assessment and change.

As well as consulting, Ron has completed extensive research into organization design and uses the data to offer clients a customized, proven approach to strategic organization design.

He has written Changing Human Systems. This best seller has been used in over 50 college and university courses. His views on organization design were profiled on "World Business Review", a television series hosted by Alexander Haig, and previously on "The Executive Forum", a television show hosted by (former Apollo 13 Commander) Jim Lovell. He has been a radio phone-in show guest, is a frequent conference presenter, and has written articles for professional journals.
Price
Single registration  $2095
Three or four participants from your company - $1795 each
Five and above participants from your company - $1596 each
Those who have signed participation agreements with the Society should call Ken Shepard at 317-644-0472 and he will tell you the fee and invoice you directly.
Includes:
One-year subscription to the GO Society Learning Management System with e-learning
Residential workshop fees and materials for three days - Nov 12th to 15th, 2015
Reception and dinner, Nov. 12th; All, Breakfasts, Lunches, and Breaks, Wine and cheese, Nov. 15th
On-line teleconferences with the Society's Senior Fellows
On-line learning forums - moderated by the Society's Senior Fellows.
For participants at the general management level -- five-hours of individual distance tutoring - by teleconference with a Society Senior Fellow.
Optional post conference side trip to Banff and Lake Louise - $545.00 all taxes and fees included
Download Brochure:
Post conference tour November 15 – 16, 2012
Registration
Click here for early subscription to the on-line year-long-professional development program including the e-learning modules for $99 CAN.
Register here for the full professional development program including both the Executive Symposium November 12-15, 2012 plus the year-long on-line learning resources.
Accommodation
Calgary Marriott Downtown Hotel


Our event hotel, the Calgary Marriott Downtown Hotel has given us a special group rate of approximately $209 plus taxes. This preferred rate is on a first-come, first served basis and may not be available after October 16th. You may need to make  a separate reservation if you wish to stay Sunday November 11th or Friday, November 16th at a lower special holiday or other rate offered by the hotel on those dates. If you are going on the Banff side trip you will not need a Marriott reservation on Thursday, Nov 15th but will probably need a Marrriott room Friday, November 16th which may be available at $109 plus tax.

Call Marriott reservations at +1 (800) 896-6878 or click here to make your own arrangements on line.
Refer to: Global Organization Design Society Meetings