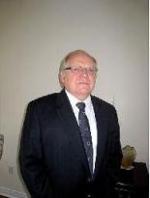 TGS Management Consultants, Inc.
Terry Seigel, CHRP, is President of TGS Management Consultants, Inc., a firm that specializes in:
Organizational design
Role clarity
Compensation systems
Succession planning
Managerial practices
He has over 25 years of managerial experience in the mining, nuclear energy and financial services businesses. He brings the unique ability to apply and integrate organizational design theories into common sense practices that readily adapt to the evolving needs of clients.
Recent clients include CPS Energy in Texas, First National of Nebraska and Ontario Power Generation.
Terry also has experience in the field of Labor Relations. As Chief Steward he was involved in bargaining for a 10,000 member union and was part of a three person Management Team that negotiated two collective agreements with the unions.
He has presented at Requisite Organization Conferences in Washington, Texas and Florida and has worked with Nancy Lee on Requisite Organization design projects since 1995.
Terry attended the Rotman School of Business Executive Program at the University of Toronto and received the Human Resource Professional designation.