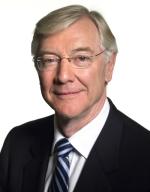 Biography
Norm Trainor is the founder and CEO of The Covenant Group. He is an international speaker, the author of the best-selling book, The 8 Best Practices of High-Performing Salespeople, and a consultant to organizations around the world.

In 1975, Norm was selected by Wilson Learning Corporation to set up and organize Wilson Learning Canada. As Managing Director, he grew the new organization to 33 employees in just eight years before leaving Wilson to found Trainor Consulting Ltd. This new company specialized in the custom design of training programs, principally in the areas of sales, customer service, management, product/technical knowledge and interpersonal skills.

After 1991, when Trainor Consulting was acquired by The Wyatt Company, Norm stayed on to build that company's Organizational Effectiveness Group.

In 1995, he left Wyatt to form The Covenant Group, where he amassed and diagnosed research on top performing professionals, eventually distilling that research into The 8 Best Practices concept. He then went on to write The 8 Best Practices of High-Performing Salespeople, an inspiring story of his work with three high performers. The book became the National Post's 1999 #1 business book in Canada. He is also the author of Best Practices: Training and Development, Carswell Thomson's international bible on Training and Development. His most recent book is The Entrepreneurial Journey: a handbook for building your business. As well, Norm Trainor is a regular contributor to Investment Executive and writes a popular monthly column for Senior Market Advisor.

Norm began his career in the life insurance business, qualifying for the National Quality Award (NQA) and the Chartered Life Underwriter (CLU) designation.

His academic background includes a BA with Honours in Psychology from the University of Toronto, and postgraduate courses in Psychology and the Behavioural Sciences.
Degrees and cert
BA (Honours) - Psychology - University of Toronto, Ontario, Canada
CLU - Chartered Life Underwriter