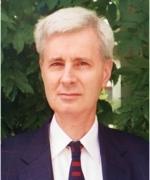 Ken Wright and Associates Ltd.
Biography
Ken is an executive coach specializing in the areas of transition issues, developing organizational and team capability, managing high potentials and potential derailors. His experience comes from sales management, corporate recruiting and as VP of Marketing and Director of Management Development and Organization Effectiveness.

Ken combines assessment tests with his experience as a manager to coach executives to leverage their assets and minimize their blind spots. He supports teams in managing change and transition, new leadership, personality issues, problems of fit as well as retaining and developing high potential future managers. His clients include IBM, Honeywell, First Data Resources, Kelloggs, Mitsui, Robert Bosch Corporation, First National Bank, Merck and BJC Health Systems.

Ken has studied at the Centre for Creative Leadership.
Dr. Clayton Lafferty, CEO of Human Synergistics was his mentor in the use of 360 degree feedback and he is certified in the use of Level III Executive Self-Assessment. He studied the concepts of Requisite Organization and Executive Leadership under the aegis of Dr. Elliott Jaques.
Degrees and cert
Currently unavailable.