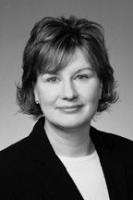 Michelle's Mission
Michelle Malay Carter's passion is to help executive leaders structure their organizations so that employees are matched to work that allows for the fullest expression of their talents so they might reunite with their families after work feeling accomplished, energized, and fulfilled.
---
Michelle's Experience
During her pursuit of that goal, Michelle has gathered over 25 years' experience in training, leadership development, and organizational development, as well as several years' professional experience in fields of marketing, advertising, and communications.
During her career, she has served clients as an internal, external, and independent consultant in small organizations and within one of the world's largest.
Also an author and speaker, Michelle's writing has been featured on HR.com, and she served as a visiting lecturer in NC State University's Department of Communications.
---
Michelle's Requisite Organization Blog
Read the 300 post archives of Michelle's blog, now in hiatus, Mission Minded Management.
---
Michelle's Mantra
Michelle sums up her approach to leadership and management with her mantra:
I'm OK, You're OK.  Let's fix the system!
Degrees and certifications
BS - Journalism/Advertising - Kent State University, United States
MA - Organizational Development - NC State University, United States
Certificate - Organizational Development - UNC-Charlotte, United States