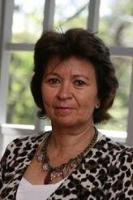 With 25 years of experience in consultancy, Azucena has worked with leading companies managing more than 150 transformation projects in Argentina, Chile, Uruguay, Colombia, Perú, Venezuela, Bolivia, Ecuador, Brazil, Mexico, Guatemala and Panama.

Azucena's area of expertise is helping organizations in the process of growth and transition towards more complex business environments and increasing competitive capabilities of such organizations. The differential aspect of her consultancy approach is her ability to establish deep and clear connections between a company's business strategy and organizational capabilities, and to implement plans accordingly.

A few examples of Azucena's contribution to leading companies include the following:
Working with the oil and energy company YPF in its transition from being one of the biggest Argentinean state-owned company to being a Spanish private company.
Helping to set up the vision during the start-up of the airline LAN Argentina and aligning the company to work driven by that vision.
Assisting the largest cellular phone company, Movicom, during its growth process and later merger with Unifon in Argentina, Chile and Panama.
Working with Grupo Brescia's Corporate Centre in Peru.
Azucena contacted Elliot Jaques in 1983 through Jaques' disciple, Profesor Aldo Shlemenson. Since then, Azucena has integrated concepts from Requisite Organization such as structure design, potential capability assessment, talent pool planning and leadership practices into her approach.

Azucena was a member of Wilson Learning Corporation' leading board and represented the firm in Latin America during 14 years.
 
Degrees and certifications
Bachelor degree in Psychology - Universidad Nacional de Córdoba
Master's Degree in Sociology - Universidad Católica de Buenos Aires
Postgraduate studies in Organizational Change and Business from Escuela de Psicología Social de las Organizaciones and from Centro de Estudios Macroeconómicos de Argentina – CEMA
Certified Master Trainer from Wilson Learning Corporation, USA
GO Society Roles
Advisor Committee Member for the organisation of the international conference held in Buenos Aires, October 2009
Global Organization Society Board Member since October 2009