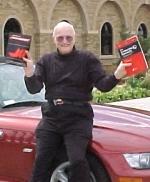 Deceased - Formerly Professor
Biography
Dr. James G. (Jerry) Hunt was the Paul Whitfield Horn Professor of Management; Professor of Health Organization Management; Director, Institute for Leadership Research, and former department chair of management, Texas Tech University. He received his Master's and Ph.D. degrees from the University of Illinois, after completing a B.S. (with honors) at Michigan Technological University. He has taught at several U.S. universities and has lived and taught in England and Finland.

Jerry coauthored a management textbook in organization theory and two organizational behavior books, one in the seventh edition and one in the third. He also has authored or edited three leadership monographs. He founded the Leadership Symposia Series and coedited the eight volumes based on the series. He has presented or published nearly 200 articles, papers, and book chapters. Among his more recent books are Leadership: A New Synthesis (Sage Publications), Strategic Leadership: A Multiorganizational-Level Perspective (Quorum Publisher), and Out-of-the-Box Leadership (JAI Press). He was editor of the Journal of Management, editor of Leadership Quarterly, and editor of a scholarly monograph series for JAI Press.

Jerry was former president of the Southern Management Association and Midwest Academy of Management, chair of the OB Division of the Academy of Management, and Academy Fellow and a Southern Management Association Fellow.

Jerry received the Distinguished Service Award from the Academy of Management and the Barnie E. Rushing, Jr. Distinguished Researcher Award from Texas Tech University for his long-term contributions to management research and scholarship.
Degrees and cert
BS - Mechanical Engineering - Michigan Technological University, United States 1954
MA - Labor and Industrial Relations - University of Illinois, United States 1957
PhD - Business Administration & Psychology- University of Illinois, United States 1966
GO Society Roles
GO Editorial Board (2005-2008)