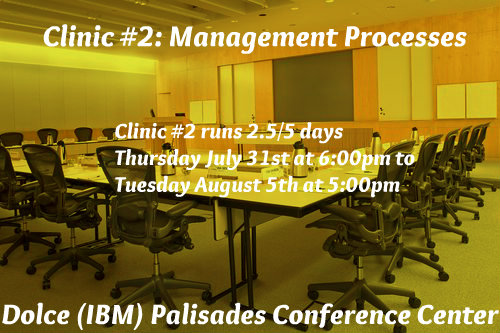 Requisite Leadership Framework
A workshop in Requisite Organization 
Thursday, July 31:  6pm - 9pm
Friday, August 1: 8:30am - 5pm
Saturday, August 2:  8.30am – 5 pm

Background
Requisite Organization is a whole system of management, used internationally over six decades to build and enhance the workplace.  It is evidence based and focuses on fixing the system, not the people, so that the organizational conditions of the workplace enable people to do their best work.  When all parts of the system align, it meets the objectives of a fair and trust inducing workplace environment.
RO utilizes natural laws of work to help managers diagnose dysfunction in their organization arising from:
• Poorly structured work relationships (organisational structure);
• Misalignment of roles to work flows;
• Mis-fit of people to roles,
• Poor design and deployment of systems of work; and
• Counter-productive and/or inconsistent managerial practices
Where such organizational weaknesses occur the likely result will be unrealized employee productivity, significant waste, unnecessary rework, unrealized plan objectives and poor customer relationships.  These outcomes often go hand-in-hand with absenteeism, internal silo behaviors, adversarial working relationships, union-management conflict, work-related stress, bullying and counter-productive team behavior.
The veracity of the RO body of work is supported by:
• The successful application of RO in a many significant organizations around the world.
• The documented personal experience of a significant number of reputable senior business leaders.
• The compelling published works of Jaques and Brown and a formidable bibliography of authors applying the concepts across the globe.
• The breadth and depth of the work of academics, and the application by consultants and practicing business leaders to converge on this substantial body of knowledge.

 
This workshop brings you a unique experience in learning about this system.
A team of specialists and experienced managers will present the principles and concepts, and engage you in simulated workplace experiences to illustrate the work of managers by: 
• Using a customized Leadership Framework of principles and tools for enabling managers to quickly visualize and grasp the whole system, including the core concepts and tools, and to apply them immediately in their business;
• Demonstrating how to confidently diagnose the core organizational and leadership elements of structure, systems and  leadership practices that impact the organization's ability to deliver;
• Illustrating the importance of leveraging the line manager in delivering workplace reform through application of the knowledge and setting clear performance expectations; and
• Enabling CEOs and senior managers to initiate business-focused improvements across the organization, and to measure the impact of those improvements.

Who should attend?
Business users: Board members, CEOs, executive team members, senior HR practitioners, senior managers, senior specialists.
Academics: Researchers and lecturers in business strategy, organization, management, business administration.
Consultants: Advisors and service providers in organization and leadership development, HR systems, business process and productivity improvement, ICT.

What you will learn
• How the legitimate wealth creating needs of business are best achieved by meeting the natural needs of employees for challenging work
• The key constructs, practices and principles of the Framework-based approach
• Effective deployment of RO-based, productive workplace improvement and reform

Agenda 
Day 1:  Overview (evening)
• Background and overview of Requisite Organization

• The Framework-based approach

• Key concepts and principles
Day 2: Leading People
Morning

Your questions answered – Ask the manager! 
• Accountability, authority and accountability hierarchies
• Using managerial authority to build strong manager-employee relationships    
• The importance of understanding Work, and Tasks in engaging people to work
• Diagnosing employee capability for Personal effectiveness, Coaching and Feedback
Afternoon
• Setting Context
• Team working
• Putting it all together:  A case study 
Day 3: Organisation Leadership
Your questions answered – Ask the manager!
• Developing Vertical Structure:  Complexity and Levels of Work
• Horizontal Structure: Defining role relationships and working across the organization
• Building and sustaining a productive, trust inducing culture
• The Manager-once-Removed role
• Systems of work
• Implementing the Leadership Framework
• Insights from applications in the workplace:  Discussion with senior managers and specialists on their experience of applying the Leadership Framework 
Barry Deane

Barry trained as a professional engineer and had an early career in engineering design, construction and project management. He began working in the mining with CRA of Australia in 1980 (coinciding with the beginning of Elliott Jaques work with that company). He then worked in a variety of line management and senior executive roles in engineering, marketing, business analysis, resource development studies and executive development. 

Barry began consulting, providing RO-related services in 1999. Barry and Sheila Deane formed Peoplefit Australasia, in association with Glenn Mehltretter (PeopleFit USA) in 2004.

 

 

Sheila Deane

Sheila has a background in line management, human resources management and organisation development. She has worked in the mining, heavy engineering, oil and gas, retail, brewing, power generation, iron and steel and paper industries in South Africa and Australia. She has more than 15 years experience in hands on workplace use of RO principles and practices. 

Sheila and Barry Deane began consulting 1999. Since then Sheila has successfully designed and delivered RO-based leadership training to practising line managers in a range of major Australian companies.

Michelle Malay Carter

Michelle's Experience

During her pursuit of that goal, Michelle has gathered over twenty years' experience in training, leadership development, and organizational development, as well as several years' professional experience in fields of marketing, advertising, and communications.

During her career, she has served clients as an internal, external, and independent consultant in small organizations and within one of the world's largest.

Also an author and speaker, Michelle's writing has been featured on HR.com, and she served as a visiting lecturer in NC State University's Department of Communications.

---

Michelle's Requisite Organization Blog

Read the 300 post archives of Michelle's blog, now in hiatus, Mission Minded Management.

Cynthia (Cynsie) Kraines

Cynthia Kraines (Cynsie) is senior consultant and vice president, education and training, at The Levinson Institute. Ms. Kraines's primary focus at the Institute is to establish the culture, practices, and resources to help organizations ensure robust, accountable managerial and teamworking leadership. She works with all levels of management to ensure a full understanding of how properly structured and managed work teams can ensure the efficient and creative implementation of strategic goals. For example, Ms. Kraines is currently piloting a highly interactive skills-based coaching program that is targeted to first-line supervisors. 

Ms. Kraines also directs the Institute's program of diverse in-service training activities. These programs range from managerial training, coaching, team building, change management, communication, and problem-solving skill development, to more complex implementation of adaptive, cross-functional workflow processes. She also heads the Institute's train-the-trainers program; in this capacity, she has trained numerous educators around the world. 

Ms. Kraines came to The Levinson Institute from the healthcare industry, where she held key managerial positions, for more than 20 years, in both the private and public sectors. She has also worked in high-level roles in marketing, epidemiological research, and international training. Her most recent positions were directing clinical research and, later, international training for a biotech company whose vaccine eradicated the most prevalent form of childhood meningitis from the Western world. In this capacity, she has written and authored numerous professional articles and chapters in the medical literature.

Click to go back to our Conference Page
 Register now! Download form. (138.5 kB)