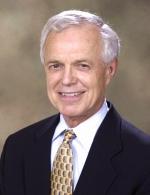 Biography
W.J. (Joe) Privott has been CEO of Privotts LC, a consulting practice, since retiring in 1999 as President and Chief Executive Officer of Novus International, Inc. Novus International is a private global specialty chemical company headquartered in St. Louis, Missouri.

From 1964 until Novus was formed in 1991, Dr. Privott held various technical and management positions in Monsanto's New Enterprise Division, Chemical Company and Agriculture Company. He was named as Novus' first President and Chief Operating Officer in 1991 and in 1994 became President and Chief Executive Officer.

Dr. Privott is Chairman of the Missouri Baptist Medical Center Board of Trustees and a Vice Chairman of the BJC HealthCare Board. He is also a Board member of Friendship Village Retirement Homes. He previously served on the Boards of the National Chicken Council, Maryville University and the Alumni Council for North Carolina State University's Chemical Engineering Department.

A native of Edenton, North Carolina, Dr. Privott is a graduate of North Carolina State University with a B.S. and Ph.D. in Chemical Engineering.

He and his wife, Marge, live in Chesterfield, Missouri. They have three children. He and Mrs. Privott are members of First Baptist Church of Ellisville where they have served in many ministries.
Degrees and cert
B.S. - Chemical Engineering - North Carolina State University, United States
Ph.D. - Chemical Engineering - North Carolina State University, United States