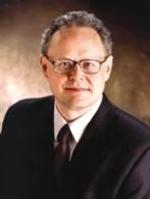 Novus International, Inc.
Thad W. Simons is President and Chief Executive Officer of Novus International, Inc. He has responsibility for overall company management and strategic planning functions. Novus is a privately held company headquartered in St. Louis, Missouri owned by Mitsui & Co., Ltd and Nippon Soda Ltd. Since March 2001, Mr. Simons has led Novus in its growth into a global US $500M animal health and nutrition company. Mr. Simons' direct reports include the vice president of global marketing and sales, vice president of finance, vice president of operations, general counsel, and head of human resources, head of research and head of analytical services.

Mr. Simons joined Novus as general counsel shortly after the company was formed in June 1991. As Novus emerged into a stand-alone operation, the need to develop a managerial style unique to Novus became increasingly important. Mr. Simons was asked to head the human resources function in September 1993. Working under the leadership of the then CEO Joe Privott and with the assistance of Nancy Lee and others, the company designed and implemented the Novus Management System. Mr. Simons was asked to lead the new business search efforts for Novus in November 1995 and has successfully led a number of new business initiatives.

Mr. Simons' career began with Dechert Price & Rhoads, a leading law firm in Philadelphia, PA in 1980. He was assigned to Dechert's Brussels office in 1981. He joined Monsanto Company's legal staff in Brussels in 1984 and was assigned to Monsanto's headquarters in St. Louis in 1988.

Mr. Simons is on the Board of Directors for the National Chicken Council and the World Agricultural Forum and was awarded the 2001 International Businessperson of the Year award from the World Trade Center of St. Louis. He is also a member of the Missouri and Georgia Bars, the American Corporate Counsel Association, the American Bar Association and Licensing Executives Society.
Degrees and certifications
Juris Doctorate - the University of Georgia, United States 1977
C.R.B. Fellowship - Belgian American Educational Foundation 1979-1980
LL.M. (magna cum laude)- Vrije Universiteit Brussel, Belgium 1978
Jervey Fellow - Parker School of Foreign Law - Columbia University, New York, United States 1978-80
LL.M - Columbia University, New York, United States
Diplôme d'Etudes Approfondies - Université de Paris I., France