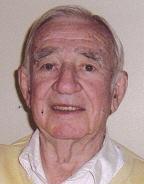 Biography
John Travers (Jack) Brady was born in Peterborough, South Australia in 1931 but the family moved to Broken Hill. New South Wales when he was a child. After completing his secondary education at Broken Hill he was employed as a Trainee Mining Engineer with The Zinc Corporation Ltd. He undertook a Diploma Course in Mining Engineering at Broken Hill Technical College before entering The University of New South Wales in Sydney in 1955. He graduated as Bachelor of Engineering in Mining Engineering in 1956.
In 1957, Jack joined Mount Isa Mines Ltd as a Mining Engineer at Mount Isa. Over the course of 10 years spent there, he was employed in a variety of positions including Shift Boss, Foreman, Mine Planning Engineer, Production Engineer and Underground Superintendent.
In 1967 he moved to Cobar N.S.W. as Mine Superintendent of Cobar Mines Ltd and was promoted to General Manager of Operations in 1969. He held this position until 1977 when he joined the parent company, BH South Ltd as a Director and General Manager, Mining for the South Group based in Melbourne Victoria.
Following the merger of South's mining interests with CRA Ltd in 1980, Jack became General Manager, Mining with the CRA subsidiary Australian Mining & Smelting Ltd. In 1981 he became the Managing Director of the AM&S Mining Division of CRA Ltd with responsibility for the mining operations at Broken Hill, Woodlawn, and Cobar.
In 1983, Jack was appointed Vice President Human Resources to oversee ?the Organisational Development Project across the CRA Group under the leadership of the Chief Executive, Sir ?Roderick Carnegie. He was to work with Elliott Jaques and Consultants from the McKinsey Group. High potential young Staff from CRA were appointed to lead Project Teams in each of the CRA Business Units. Subsequently appointed a Group Executive Jack also assumed responsibility for Administrative Services and External Affairs. Jack retired from CRA Ltd in 1993.
Throughout his career, Jack Brady has been active in professional associations and has served as a Councillor for each of The Australasian Institute of Mining & Metallurgy, the Australian Mineral Industries Research Association and the Australian Mineral Foundation. He has also held the position of President for both The Institute and AMIRA.
Since retirement, Jack has undertaken consulting assignments and held Board positions within the Minerals Industry in addition to his voluntary work with The ?Aus IMM