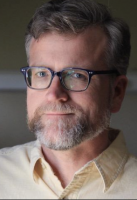 Technology Risk Management & Oversight
For over 20 years, Forrest Christian has demonstrated his deeply held belief that work should be liberating, not imprisoning.
As an author, speaker and strategic consultant, his clients have written that he "has a unique insight" that propelled them to get unstuck and move forward to success.
He serves as the leader of The Manasclerk Company where they help individuals and teams achieve their very best by working with what naturally works for them, their situation and their market environment, bringing people, ideas, and technologies together to transform business processes, identify opportunities, and advance strategic objectives.
Forrest has a wide knowledge of IT and software, having done a variety of roles in organizations both large to small, from big business to big science, working with every level.
An experienced trainer, he is often called on to provide custom transformative learning experiences. He currently works in technology operational risk management for a large US-based financial company.
Contributions to the field of Requisite Organization practice and to the Global Organization Design Society and its associates.
The field of RO:  

Writes quality articles about RO-related topics and situations and publishes them on his website, The Manasclerk Company
Moderates some of the highest quality, web-based discussions available on the internet also the the Manasclerk Company website.

The Global Organization Design Society
GO Society associates
Degrees and certifications