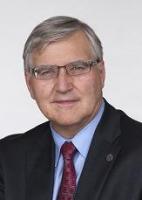 Royal Ottawa Health Care Group
Biography
George Weber has served as the President and Chief Executive Officer of the Royal Ottawa Health Care Group, one of four stand alone specialized mental health facilities in Ontario, since October 2007, after having served over 26 years as a Chief Executive Officer of a number of National (e.g. Canadian Red Cross and Canadian Dental Association) and International Organizations, including the International Red Cross and Red Crescent Societies (i.e. International Federation) in Geneva, Switzerland. 
He is currently serving or has served on a number of not-for-profit and for-profit Boards of Directors in Canada and Switzerland and is a certified corporate director (i.e. ICD.D) and a certified association executive (i.e. CAE).
He is trilingual and holds a Master's degree from McGill University and has completed the Advanced Management Program from the Graduate School of Business Administration, Harvard University, the International Program for Board Members from the Institute of Management Development in Lausanne, Switzerland and the Directors course sponsored by the Institute of Corporate Directors and the Rotman School of Management, University of Toronto.
He has been awarded a number of national and foreign honours and recognitions and has published several leadership and management books and publications
Degrees and cert
B.Ed. - (P.E.) - McGill University, Montreal, Quebec, Canada
MA - McGill University, Montreal, Quebec, Canada
AMP - Harvard University Graduate School of Business Administration, Massachusetts, United States
CAE - Certified Association Executive
ICD.D  Institute of Corporate Directors 
GO Society Roles
Board Member, Treasurer and Secretary ?(2005-Present