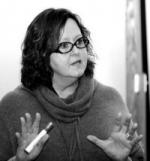 Vice President - Education and Training
Biography
Cynthia Kraines (Cynsie) is senior consultant and vice president, education and training, at The Levinson Institute. Ms. Kraines's primary focus at the Institute is to establish the culture, practices, and resources to help organizations ensure robust, accountable managerial and teamworking leadership. She works with all levels of management to ensure a full understanding of how properly structured and managed work teams can ensure the efficient and creative implementation of strategic goals. For example, Ms. Kraines is currently piloting a highly interactive skills-based coaching program that is targeted to first-line supervisors.

Ms. Kraines also directs the Institute's program of diverse in-service training activities. These programs range from managerial training, coaching, team building, change management, communication, and problem-solving skill development, to more complex implementation of adaptive, cross-functional workflow processes. She also heads the Institute's train-the-trainers program; in this capacity, she has trained numerous educators around the world.

Ms. Kraines came to The Levinson Institute from the healthcare industry, where she held key managerial positions, for more than 20 years, in both the private and public sectors. She has also worked in high-level roles in marketing, epidemiological research, and international training. Her most recent positions were directing clinical research and, later, international training for a biotech company whose vaccine eradicated the most prevalent form of childhood meningitis from the Western world. In this capacity, she has written and authored numerous professional articles and chapters in the medical literature.
GO Society Roles
Internation Advisor - United States (2005-present)