A General Theory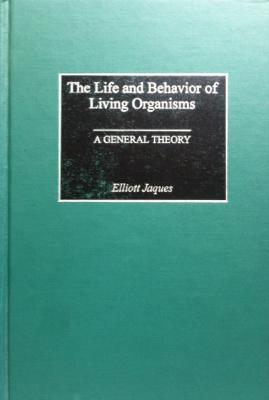 Author:
Publisher
Praeger (December 30, 2001)
Jaques presents a totally new general theoretical foundation for understanding the individual and social behavior of all living organisms. In contrast to existing theories of behavior which are static, Jaques has succeeded in breaking through to a truly dynamic orientation. This breakthrough, resulted from his fundamental research into work organizations that led to the realization that the difference between inanimate processes and all living behavior, is that all living behavior is composed of intentional goal-directed work.
This continuous work entails the use of judgment in choosing goals and in making the decisions necessary to get to these goals. This work process is the same in all living organisms, including humans. It is an ineffable process of the total organism, inaccessible to direct observation and experience. Intentionality is the dynamic of behavior. This discovery has led over the past 50 years to extensive discoveries--objective measures of work complexity, and of the level of complexity (capability) of individuals in all species; how human language differs from communication in other species; the need to distinguish between horizontal evolutionary mutations within a given level of capability, and vertical evolution to species with higher levels of complexity; the nature of freedom within mutual-trust inducing constraints. Set forth to radically change the nature of all behavioral and social sciences in the new millenium, Jaques' analysis is essential reading for all scholars, students, and researchers as well as the general public involved with the behavior of living organisms.
You need to login first to see or download this section