How to successfully implement your business strategy (The Leadership Framework Series)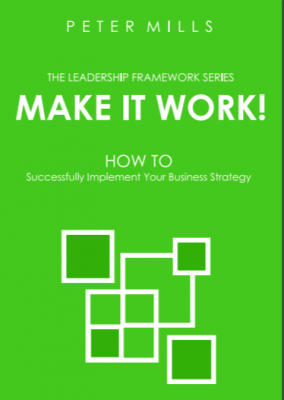 Author's profile:
Publisher
InHouse Publishing (July 31, 2017)
A good business strategy is a great start; however, many organizations are not able to deliver on their intent. Strategy involves change, and change is difficult as human tendency is to resist it. No matter how inspiring the vision, how fantastic the product, or how innovative the technology, it will come up against hurdles. Only solid execution will put an organization on the competitive map. 
Good strategy implementation is about effective leadership. Effective leadership is not only about setting direction but also creating a working environment that both enables and supports strategy implementation. This environment includes the organization's structure (functions, roles and role relationships); its systems of work (policies, processes and information and communication technologies); and the application of effective managerial leadership practices. Each component provides the context for work and together they create the working environment that impacts all employees, including managers. 
To successfully implement a strategy, leaders must be able to:
Clearly define the strategy
Align the organization for success
Cascade and deploy the strategy to relevant employees
Monitor and assure implementation
You need to login first to see or download this section